Note
This article originally appeared in the blog for my now-discontinued iOS app That Word.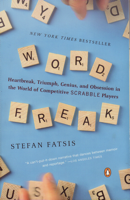 While developing That Word, I tried to learn as much as I could about the subculture occupied by word-game aficionados (aka "wordies"). A quick search on Amazon.com✻ led me to Word Freak, which chronicles the lives of several competitive Scrabble players on their quest for word-nirvana and championship titles. Even if you're not that into word games, Word Freak is a surprisingly entertaining read. The book provides lots of interesting history on Scrabble, but the more compelling story is the human one—about the word-obsessed, genius-misfits that live in the fringes of regular society, trying to master the game of Scrabble. I was both inspired and dumbfounded by the devotion exhibited by the people portrayed. Dumbfounded because their commitment to Scrabble is usually to the detriment of everything else in their life.
For those that don't want to invest the time to read Word Freak but are still curious, there are also a couple of documentary movies that parallel the book: Word Wars and Scrabylon. (I've haven't seen the latter yet.)
---
✻ Well, Amazon.ca, actually. I think the Canadian book cover (shown) is different than the US version.